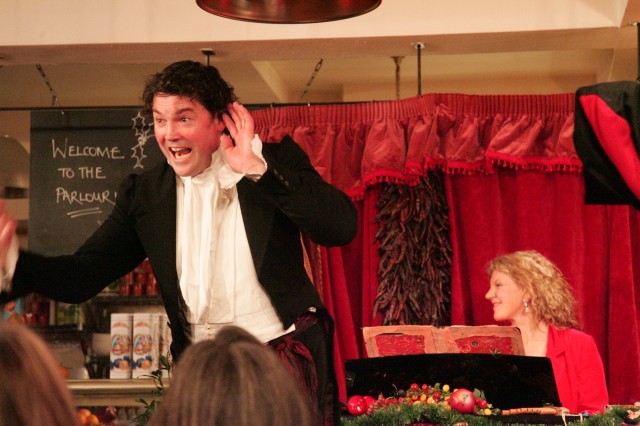 Christmas in the Parlour
Operaplayhouse presents a traditional Victorian Christmas evening of festive tales, sing-along carols, fun, laughter and some of the most beautiful music written for the voice. Bach and Dickens; Handel and Dylan Thomas; and Queen Victoria herself accompanying Prince Albert on the piano as he sings the parlour songs he wrote especially for her.
A Victorian set, sing-along carols and lovely costumes. A traditional and seasonal entertainment to help celebrate the festive season.  This programme was chosen as a recommended Show by the 'Night Out' scheme, for The Arts Council of Wales, 2008.
All our shows are flexible and can be performed with or without intervals and can accommodate picnics,  dinner breaks or short intervals.  See bottom of page.

Bum Notes And Sliding Scales
Your very own operatic 'double entendre'.  A hilarious programme of arias, duets and sketches from the World of Opera. All your favourite melodies … and a great deal of laughter in one enjoyable evening. High Art in duet with Low Comedy! From Mozart to Lehrer, Handel to Flanders and Swann, Puccini to G&S, this is a comic operatic programme to delight and amuse.

Songs From The Potting Shed
The love of all things horticultural  propagated some of the greatest poetry, music and frustrations known to man. Hedge your bets, put down your spade, reap what you sow and come into the potting shed, Maude! It ain't over 'til the Variegated Fatsia sings! This musical mixed bed includes the perennials (Mozart, Purcell and Handel) planted alongside some delightful blooms (Novello and Flanders and Swann).
Nelson and Emma
A celebration in words and music
An entertaining, theatrical and informative programme combining the music of Haydn, Paisiello, Arne and Braham etc. with the letters and writings of Lord Horatio Nelson and Lady Emma Hamilton. One of our true great Britons, Nelson fell deeply in love with Emma – an actress, singer and performer of her famous "attitudes" – and together they embarked on a passionate affair, which scandalised Georgian Society. The fact that they were both still married to their respective spouses certainly did not help matters. Undeterred, they set sail on their tempestuous journey through the roughest of seas.
Lowering the Tone
Opera Singer, Pianist, Actor, Director and Songwriter, Karl Daymond invites you to waste an evening with him in the company of Noel Coward, Tom Lehrer, Ivor Novello, Flanders and Swann etc.
"…it worked extraordinarily well. The packed house hung on every word that Karl Daymond sang and spoke. Accompanying himself on an upright piano, he moved effortlessly from the romantic to the risqué…Daymond's singing achieved intensity when necessary but he also has the knack of the true 'diseur', the ability to speak words through the music. His timing would delight any connoisseur of cabaret, and he proved able to act to a dummy, rather as Edith Piaf did in Cocteau's 'Le Bel Indifferent'." (Opera Magazine)
A Baby Grand Piano
No piano? We can provide a fine digital baby grand piano on request.
Your house and garden!
We are happy to perform in the intimate surroundings of your home and can transform your house or garden into an opera house!